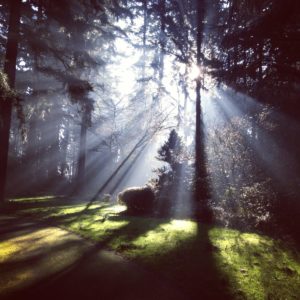 I never met Emily Brown Kocis but I know her. I know her as God allows me to know his truth, and in its light, her light, God's light through her, I am changed. All who knew her are changed.
Emily was diagnosed with peritoneal mesothelioma, a rare cancer. She was a daughter, a sister, a wife, a mother and more. She was 28. She parted this life January 7, 2017. Light emanates from her soul and spirit.
Emily's spirit touched me. I spent time reading her posts on Caring Bridge and through her words, I began to understand a person's life by its devotion to more than self. By its love and faith and courage in the face of human certainty, life is a prayer. Her life, more than self, prayed for us all.
Emily walked her path with a sublime clarity, not with any sense of giving up, but with a confident determination to fight, to win and to live. Her journey, which began with "just another hot Tuesday in July…that day that changed everything" would forever alter the lives she touched.
Emily's life, death, and words reveal God to me. She said, "There is something about the illusion of a limitless horizon that makes you squander your time a little more carelessly. And there is something about accepting the fact that the cancer may win that alters your field of vision. Time becomes something to savor. Again, the fight is not over."
I prayed for Emily so many times with so many others in so many solitudes. I asked God to heal her and give her strength and courage. As I read her words, I found she possessed these gifts before the first prayer was uttered. I asked for nothing less than what was in God's power to grant. I asked for her light, God's light through her, to remain in our presence.
Our earthly bonds are but for a while and though severed by death, the broken bond seeks an equilibrium for those who go on. But we never just go on, for the life that loves and touches also resurrects. We are changed because this life was lived and was loved and did love. And through this resurrection, the eternal bond can never be broken. Love has yet to know death.
Anne Lamott, in her book "Traveling Mercies" says, "They seem always to be walking. As with all nomads, if you don't keep walking, you die – so you figure out how to keep walking." This is how I will think of Emily. Though here but for a while, she is still walking, leaving in her path grace, dignity and hope, walking in the minds and hearts of family and friends and the lives she touched, even people like me who never met her.
"Cast your cares on the LORD and he will sustain you; he will never let the righteous be shaken" (Psalm 55:22).
For more information on peritoneal mesothelioma contact the Mesothelioma Applied Research Foundation at www.curemeso.org.